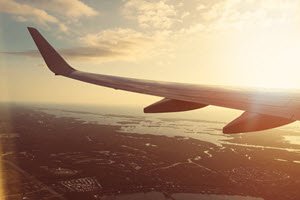 Summer vacation is prime time for identity theft and fraud. We recently shared tips to help consumers stay secure and keep a relaxing trip from turning into a headache. But what about the risks before you've stepped out the door?
Travel scams are among the most popular online threats facing consumers. According to a recent article from CNBC, the American Hotel & Lodging Association reported some 15 million bookings are linked to fraudulent websites and call centers, resulting in a staggering $1.3 billion in transactions each year. And with travel expenditures expected to reach $1 trillion in 2017, cyber criminals will continue to target the travel industry with increased fervor.
Cyber criminals utilize numerous tactics to target consumers including discounted travel deals, posting phony rental listings, and even impersonating travel agencies. Most of this is done to obtain consumers' personal and financial data and resell it across the dark web. With attacks increasing in both popularity and sophistication, here are some signs you're being scammed:
You Won a Free Vacation – With Strings Attached
If it sounds too good to be true, it probably is. A legitimate company will never ask you to hand over your credit card information or pay a fee for a prize. A good tip from the FTC: before doing business with any company you know, call the Attorney General and local consumer protection agencies in the company's home state to check on complaints and do your own research by searching online for scams associated with the company.
The Travel Site Has Little History
Any website promoting suspiciously cheap flight tickets or rental prices should raise a red flag. Stick with the established retailers you know. Be on the lookout for multiple dashes or symbols in the domain name and watch out for excessive advertising on the page. When in doubt, look out for "https" in the prefix and the "lock" icon that appears in your browser, indicating you're on a secure site.
You're Asked to Wire Money for a Security Deposit or Rental Fee
This is one of the most telltale signs of a scam. Wiring money puts that money directly into the hands of a criminal with no way for you to get it back. There's never a good reason to wire money, whether for a security deposit or vacation rental fee. Popular vacation rental sites are taking measures to combat this; Airbnb prohibits hosts from asking renters to pay them using anything other than its built-in payment page.
Wherever you may be headed, staying mindful of these threats can help keep you one step ahead of identity theft and fraud. Do you have other tips to share? Join the conversation on Facebook, Twitter or LinkedIn.