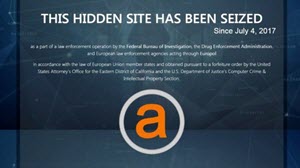 The takedown of two popular dark web marketplaces is making headlines around the world today. The US, Europol and the Netherlands announced that after a global law enforcement operation, AlphaBay, a site with more than 200,000 users and $1 billion in illicit sales, has been shut down. Following AlphaBay's takedown on July 4th, Europol reported an eightfold increase in users registering for the Hansa Market, which was monitored by authorities for a month before also being deactivated.
Both sites, accessible through the Tor network, were responsible for the exchange of hundreds of thousands of illicit items including illegal drugs, toxic chemicals and more. With the marketplace standing at roughly ten times the size of the Silk Road, AlphaBay's takedown was described by Andrew McCabe, acting director of the FBI, as a "landmark operation."
While these shutdowns are indeed historic and a testament to the power of global government collaboration, it's important to note, as Motherboard put it, "the actions are unlikely to significantly dent the overall online trade" in illicit items.
Through our dark web surveillance technology, CyberAgent®, we're continuing to see millions of pieces of personally identifiable information being exchanged across the dark web. There are thousands of dark web marketplaces out there, and while the takedown of AlphaBay and Hansa may slow the exchange of illicit items, history has shown that cyber criminals will migrate to other sites and seize on the shutdown as an opportunity to start new marketplaces.
Cyber criminals will continue to innovate and find ways to buy and sell illicit items, malware and personal data across the dark web. It's on all of us to remain vigilant of the threats and take responsibility in staying one step ahead of attacks by using long, strong and unique passwords, regularly updating software, and enlisting the help of an identity and credit monitoring partner.
What are your thoughts on today's announcement? We'd love to hear from you. Weigh in with us on Facebook, Twitter or LinkedIn.