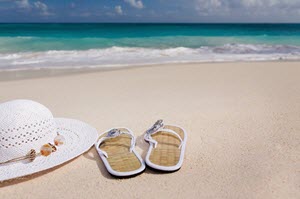 With the summer months upon us, the thrill of escape is constantly on our minds. Whether it's an international getaway, a road trip, a visit to the beach, or another destination, summer is synonymous with travel. Perhaps you've already made some vacation plans of your own this summer. While it's great to get out and explore a new city or country, travelers can be enticing targets for scammers. They're often unfamiliar with their surroundings, their guard is usually down, and they have money at their disposal.
Vacations are supposed to be a time of leisure, but if you're not careful, they can cause tremendous damage in putting you at risk for identity theft or fraud. Follow these steps to make sure your relaxing trip doesn't turn into a headache.
Watch for Travel Scams
Travel threats can arise before you even leave your home. During the summer months, phishing scams are more frequent, with promises of irresistible deals on flights or hotels. These online "malvertisements" can install malware onto your computer if you click on them in the hopes of a major discount. Scammers have found some other creative ways to target users, as well, such as sending a bogus flight itinerary containing malicious code that infects the user's computer and accesses their files. Only use trusted, well-established websites to book your travel. When in doubt, call the website directly to confirm a deal is legitimate.
Alert Your Accounts
Most credit card and bank companies have monitoring services in place that can alert consumers whenever suspicious activity occurs. Notify those companies that you're planning to travel – and where you'll be going – during a specific set of dates. Not only will they be aware of fraudulent transactions, it will also be easier to put a freeze on your account should your card get lost or stolen during your trip.
Stay Away from Public Wi-Fi
More than three quarters of consumers are aware that using free public Wi-Fi can result in identity theft. Despite this, people are still three times more likely to connect to a public Wi-Fi spot that's free to use. Scammers know this, and will often set up Wi-Fi networks to trick unsuspecting visitors into providing personally identifiable information. As an alternative, use a more secure Virtual Private Network (VPN) or hotspot. Additionally, avoid visiting any sites that contain sensitive data, such as your bank or credit card accounts, and refrain from making financial transactions while connected to public Wi-Fi.
Enable Multi-Factor Authentication
If a hacker does try to access your information online, multi-factor authentication (MFA) provides an additional layer of security. Many sites with sensitive data already have the user answer a security question to log on, but you can also require a code to be entered. That code is sent directly to your phone, providing another layer of security and keeping your account from falling into the wrong hands.
Hold Off on Sharing Photos
Did you take the most beautiful, picturesque photo on your vacation? Feel free to share it, but consider waiting to do so until after you return home. Publicly sharing that you're on vacation alerts criminals that your home is unoccupied, making it an attractive target. Hold off on posting that picture immediately; it will be just as eye-catching a few days later.
Do you have a routine to help keep yourself secure when traveling? Join the conversation on Facebook, Twitter, or LinkedIn.