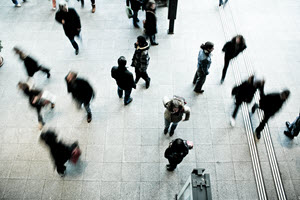 According to the Identity Theft Resource Center, 76% of consumers are aware that using free public Wi-Fi can lead to identity theft. However, people are still three times more likely to connect to a public Wi-Fi hotspot if it's free to use. Public Wi-Fi allows anyone within a specified area to potentially access or read data that is transmitted over the network, lowering the barrier to breach a user's privacy. Consumers should be aware that the convenience of free public Wi-Fi networks comes with serious security risks through tools and tactics like page spoofing and malicious software, that could potentially lead to identity theft.
There are often multiple networks for users to choose from and it's not always clear which network belongs to the venue itself. Users may unknowingly connect to a network that is being manipulated by a hacker. This is done through a malicious access point, where an attacker mines user data by routing users to fake versions of websites in a practice known as "page spoofing." These fake websites often look like the real deal, and can even reflect the actual website's domain name. Users are prompted to enter their credentials on these fake pages, where the attacker logs the information. The pages then route to a login error page that redirects to the actual website. Without realizing it, users can provide their login credentials directly to cybercriminals. That information can be utilized to hack the same user's data across other accounts and websites.
Attackers may also introduce viruses or malware on users' computers or mobile devices by asking them to download certain software to gain access to public Wi-Fi networks or to view certain content. This is commonly done by prompting users to update the browser's Flash software to visit a webpage and by redirecting to a fake website that downloads a virus instead of the actual software.
To protect your personally identifiable information (PII), it's a best practice to avoid public Wi-Fi networks entirely. If you must use a public network, consider using a Virtual Private Network (VPN). By using a VPN, your data will be encrypted and hidden from both the Wi-Fi provider and the wider network. Take precaution before accessing public Wi-Fi networks by confirming with the venue that the network is legitimate. While utilizing these networks, steer clear from websites that require sensitive data or login credentials.
Do you have additional tips for helping stay secure while using public Wi-Fi networks? Share them with us on Facebook, Twitter, or LinkedIn.