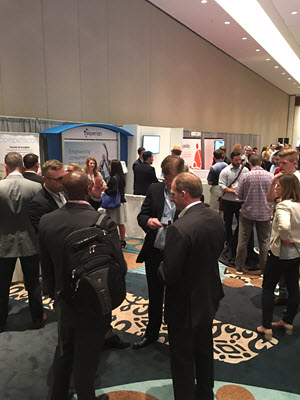 Earlier this week, our team had the pleasure of participating in the Card Forum here in Austin, Texas. The three-day event headed up by publisher SourceMedia brought together over 600 professionals from the mobile payments, credit, marketing, risk and fraud industries. Session programming highlighted trends, challenges and innovation in card programs across financial services and retail.
With much of the programming spotlighting the evolution of payments through technology, security and risk became a natural part of the conversation. The Internet of Things, rise of P2P (peer-to-peer) and increasing popularity of mobile payments were big themes this year that raised some interesting questions around how security can – and must – keep up with innovation. We enjoyed hearing perspectives on some of the latest solutions, including digital innovations to help make the customer experience more secure, analytics for predicting risk, and strategies to prevent fraud in the EMV environment.
Developments in payments technology are ushering in a new era of threats for consumers. As mobile payments become more prevalent, 87% of cybersecurity experts expect to see an increase in mobile-payment related data breaches. Consumers need to be aware of this growing risk and take the necessary steps to secure their information. For some of our top tips to mitigate risk, check out our recent blog post on the topic.
During a time when payments technology is evolving at a rapid pace, it was exciting to be joined by other innovators and create a dialogue around solutions to combat growing risks. Were you at #CardForum2017? We want to hear your takeaways from the event. Weigh in with us on Facebook, Twitter and LinkedIn.