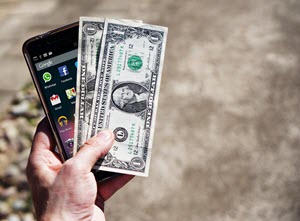 With more than three quarters of Americans owning a smartphone, we rely on our mobile devices to keep us connected, store our photos, organize our lives, and so much more. Within the last few years, several major players have introduced a new way to use our phones through the rollout of mobile payments.
While consumer adoption of mobile payments has grown at a relatively slow pace, with only 18% of Americans regularly using this payment method, the mobile payments industry is expected to reach a startling $2.8 trillion by 2020.
As mobile payments become more prevalent, 87% of cybersecurity experts expect to see an increase in mobile payment-related data breaches. Our mobile devices have become increasingly valuable to cyber criminals, who have set their sights on mobile attacks and are taking advantage of software vulnerabilities to exploit personal consumer information. As threats on mobile devices grow, make sure you're aware of the risks and follow these best practices to help safeguard your financial and personal information.
Be wary of public Wi-Fi
Many public places offer free Wi-Fi as a courtesy to patrons, but this is a common way for hackers to access your data. Devices connected to public Wi-Fi send data in clear-text, allowing remote attackers to identify and extract information. To ensure your connection is protected, use a Virtual Private Network (VPN) connection. A VPN is particularly beneficial for accessing sensitive financial information because it encrypts data and hides IP addresses.
Use strong passwords and multi-factor authentication
Weak passwords leave consumers significantly more vulnerable to attack. In 2016, the most commonly used password was "123456" followed by "password." In addition to poor password practices, consumers continue to reuse passwords, giving hackers the "keys" to access many different accounts. Always use unique, strong passwords across your accounts. Enabling multi-factor authentication adds another layer of protection. Multi-factor authentication can include entering a unique pin code upon login, using fingerprint identification, or including an additional security question.
Look out for phishing scams
Phishing scams have become a common way for cybercriminals to steal consumers' account information. In addition to emails and phone calls, phishing scams can take the form of a text message to fool the user into sharing personal information that can be used to hack into their accounts. Be mindful of any forms of communication, whether it be text message, email, or a phone call, requesting personal information. Before you click on something sent to you that seems a bit off, visit the sender's website directly or give their customer service a call. Generally, it is a best practice not to share sensitive personal information over text message or email.
Opt for security over convenience
Criminals are increasingly gaining access to user information through lost or stolen mobile devices. Websites and apps often prompt users to save passwords on their devices rather than entering it each time. While this convenience adds ease of accessibility as a consumer, it offers the same advantage to criminals that happen upon your smartphone. Again, using strong, unique passwords, coupled with multi-factor authentication helps keep your sensitive information protected. To further protect yourself, consider encrypting the data on your smartphone by using a PIN code.
As mobile payments become increasingly popular, it's important for consumers to take the necessary precautions to protect sensitive account information on their mobile devices. Do you have tips or best practices to share around mobile payments? Join the conversation – get in touch with us on Facebook, Twitter, or LinkedIn.