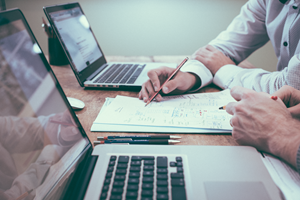 As we enter 2017, small businesses remain a prime target for hackers and criminal schemes. Last year, countless headlines reported on nationwide DDoS attacks, complex ransomware, and repeated hacks. These attacks, as well as phishing attempts, malware, and even simple human error, can compromise a thriving business – regardless of its size.
In our own survey, we found that while the majority (58 percent) of small businesses know to be vigilant and proactive about cyber attacks, most are not taking proactive measures to combat these threats. These companies are also not allocating budgets for risk mitigation and response services. The reason is surprising. Of the companies we surveyed, 51 percent were not aware that they were storing at-risk data, although many were collecting email addresses, billing addresses, Social Security numbers, and credit/debit card numbers. This data, belonging to customers and employees, can be easily compromised by malicious activity.
Last year, to help businesses of all sizes and stages protect their sensitive information, we launched our white-labeled Small Business Monitoring product. This service includes two features: Defense and Restoration.
To help defend against threats, our proprietary dark web surveillance technology, CyberAgent, monitors for compromised business information and alerts the business if we find a match to employee credentials, company URLs and domains. If compromised, users will have access to our Experian specialists who can assist with restoration for a wide range of identity theft types. Our case workers are CITRMS, FCRA, and FACTA certified.
This year, take action to help keep your business, employees, and customers safe from cyber threats. To learn more about our small business product, visit csid.com/sb.
To stay up to date with all Experian news, be sure to follow us on Facebook, Twitter and LinkedIn.