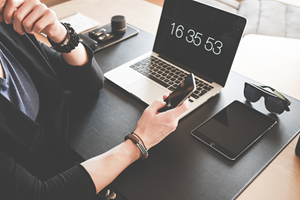 On January 28, cybersecurity experts around the world will recognize Data Privacy Day. With efforts led by the National Cyber Security Alliance, Data Privacy Day invites industry leaders and experts to share security insights that can help safeguard businesses and individuals from cybercrime. Experian is proud to be a registered champion of the international event.
On Thursday, Data Privacy Day was celebrated with a daylong event featuring TED-style talks, interviews and tips for staying secure. The National Cyber Security Alliance traveled to Twitter's San Francisco headquarters, where consumers and businesses were able to watch and engage in real-time through social media.
Practicing secure habits at home and in the workplace can and should happen every day. Here are some of our top tips:
At Work:
Create a culture of cybersecurity by discussing threats and best practices with all employees.
Develop a "Bring Your Own Device" policy for your company. Be sure to include insights and standards from your IT department, risk management, and legal counsel.
Require your employees to create long, strong, and unique passwords. Encourage employees to take advantage of two-factor authentication wherever possible.
Require your employees to update their software on devices whenever prompted to help address security vulnerabilities.
Be mindful of how you collect, use, and store employee and consumer information.
Carefully vet partners and third-party vendors to see how they manage data.
At Home:
Discuss security and privacy habits with your family. It's never too early (or late) to create an ongoing conversation about best practices.
Talk to your family about which types of information should be kept private, both online and in-person.
As a family, create strong passwords, especially for social media accounts.
Discuss how spam and scams can appear through email and private messages. Avoid clicking on links if a message seems suspicious or you do not know the sender.
Familiarize yourself with your child's gadgets and apps. Understand the data collected and consider the privacy settings on each device. Always opt for the strictest security settings to help keep your – and your child's – information safe.
Talk about the permanence of posting to social media, as well as manners and cyberbullying.
How will you celebrate Data Privacy Day? Share your experience with us on our social media — Facebook, Twitter and LinkedIn. For more information around Data Privacy Day, please visit stopthinkconnect.org.