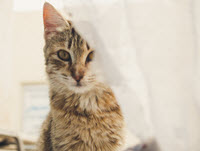 It's important to remember that when we're sharing selfies, back to school photos, and pictures of our kittens on social media, we're also sharing much more.
"I Know Where Your Cat Lives" is a project created by an associate professor at Florida State University, featuring one million Instagram, Twitpic, and Flickr pictures of cats (found through the hashtag #cat) from around the world. The online visualization is possible thanks to geotags, which are provided by photo sharing websites and publicly available APIs. After the initial cuteness of the cats wears off, it's alarming to realize that these photos reveal the homes and locations of many individuals.
Geotags can be added to many different forms of media, including pictures and video, websites, and SMS messages. These meta tags can include latitude and longitude coordinates, altitude, bearing, distance, place names, and even time stamps. It is this data that makes aggregated sites like IKWYCL possible.
Sharing geotags can pose a risk to your safety and security. Whether you're tagging animals in your home or your feet in the sand on an exotic vacation, you are alerting friends and strangers to your exact location. It's important to note that some social platforms by default, like Instagram, do not reveal a user's location coordinates. However, many users elect to add their location. This may put yourself or your belongings in danger, alerting criminals to your whereabouts.
If you hang around the cat site long enough, you are sure to see a gray box stating "Photo removed by user." Users unsettled by the location of their cats can change the privacy setting in their apps to remove the data and their images from the site.
Regardless of your favorite social platform, it's important to be cognizant about the information you're sharing. Always opt for the strictest security settings to help keep your information safe.
Are you concerned about over sharing on social? Weigh in with us on Facebook, Twitter or LinkedIn.