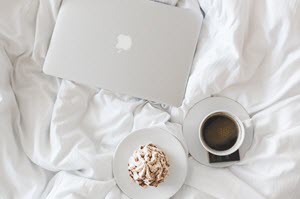 For 3.7 million Americans, waking up and logging onto a computer from the comfort of their home marks the start to their workday. According to Global Workplace Analytics' 2016 study, 50 percent of the US workforce is now permitted the luxury to partially telework during the workweek. This trend continues to edge toward the norm. In fact, the ability to work remotely, for the greater, non-self-employed population, has grown 103 percent since 2005.
While more opportunities to work remotely may reflect the emerging modern workplace, there are several factors employers and employees should weigh and discuss to ensure security is top of mind.
If your job allows employees to work remotely, consider the following:
Employees: Protect Your Home
Use strong, cryptic passwords on all of your work and personal accounts. Resist the urge to duplicate passwords.
Use two-factor authentication whenever offered for both work and personal accounts.
Personal and work devices should be equipped with the latest antivirus software, web filtering, firewalls, and encryption. Always make sure your devices and software have the most up-to-date versions to help safeguard information.
Work with your company's IT department to set up a virtual private network, or VPN, to add another layer of security to your home's internet.
Employees: Working Elsewhere
Employees should keep personal and work devices password protected in the event they are stolen or misplaced.
Avoid accessing sensitive company accounts on public Wi-Fi or unsecured networks. Public Wi-Fi can increase the risks of signal sniffing and compromise personal accounts, as well as professional networks. Many hackers set up accounts that mimic the names of frequented locations, hoping to steal from unknowing users. Consider using a VPN to access company data, or using your cell phone as a hotspot.
Be aware of your surroundings. Consider a screen protector and make sure sensitive calls are made in private.
Employers: Create a Cybersecurity Policy for All Employees
To help foster a conversation and environment committed to cybersecurity, organizations should create a cybersecurity policy and make staff training and security education a priority. In a recent episode of Firewall Chats, Michael Kaiser, executive director at the National Cyber Security Alliance, discussed creating a culture of cybersecurity at work.
"[Policies need] to be reinforced," Kaiser said. "It can't be a one and done kind of thing. It has to really be periodic. … Reminding people of the value of the information that an organization holds and the responsibility they have to protect it. When people give you their information, they expect you to protect it."
To create a cybersecurity policy:
First, identify the security risks and threats that may affect your business
Develop clear policies and procedures for all employees, whether on-site or off-site
Train all employees on your new (or existing) cybersecurity policies
Create and maintain a process to help reward policy followers and address offenders
Define and address third party and vendor risks
Work closely with your IT department to detect and address unauthorized activity
Creating a culture of cybersecurity will help safeguard employees and company data, regardless of where they work. Employees, do you have the ability to work remotely? Are you aware of the security steps needed to help keep your company safe? Share your experiences on Facebook, Twitter and LinkedIn.