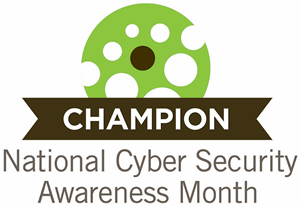 Cyber security is a shared responsibility. That's why every October, businesses, government agencies, universities, associations, nonprofit organizations and individuals come together to participate in National Cyber Security Awareness Month (NCSAM) to promote online safety awareness. NCSAM was created as a collaborative effort between government and industry to ensure all digital citizens have the resources they need to stay safer and more secure online, while also protecting their personal information.
We've participated the last several years and are proud to once again be registered as an official NCSAM Champion, where we'll join the conversation on how to stay safe online and build a culture of cyber security awareness nationwide. Here are some ways you and your organization can take part in all of the activities throughout the month:
Become a Champion: Whether you're an individual interested in getting involved or representing your organization, find out more about how to become a NCSAM Champion. You'll be joining a large community from around the country dedicated to promoting a safer and more secure Internet.
Get Involved with Events – Onsite or Online: Browse Stay Safe Online's list of events and mark your calendar for conferences and panel discussions in your area. There are also a number of virtual events, like webinars and Twitter chats, taking place throughout the month. Here are a few we're looking forward to in particular:
October 6: #ChatSTC Twitter Chat – The Basics of Online Safety
October 13: #ChatSTC Twitter Chat – Creating a Culture of Cybersecurity from the Break Room to the Boardroom
October 20: #ChatSTC Twitter Chat – Recognizing and Combatting Cybercrime
Stay Informed: Stay up to date with all NCSAM news by following our friends at Stay Safe Online on Twitter and check out their resources for helpful tips and tricks around online security.
We'll be actively involved in many of the NCSAM activities across all our social channels, so be sure to follow us on Facebook, Twitter and LinkedIn.