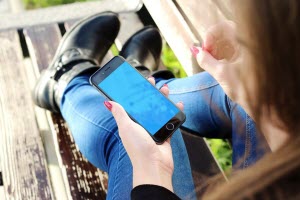 June is National Internet Safety Month, which began in 2005 in order to raise awareness around the need for online safety, especially among children and teens. In honor of Internet Safety Month, this week we're diving into how to start a conversation with your family around Internet security.
Late last year, it was reported that teens spend nearly nine hours every day in front of some form of media channel. Pew Research Center also recently found that, "… aided by the convenience and constant access provided by mobile devices, especially smartphones, 92% of teens report going online daily — including 24% who say they go online 'almost constantly.'"
With so much time spent online it's clear that, perhaps more than ever before, parents need to start a conversation around Internet security with their children.
What dangers may be associated with so much time spent online? One that may not be immediately obvious is the growing trend of child identity theft. As adults, we know using the Internet comes with certain risks, but parents often do not realize that their children face these same risks while online. This is especially troubling considering young people are already much more vulnerable to identity theft: children are 35 times more likely to have their identities stolen than adults. In our 2013 survey on the subject, Experian found that 52 percent of parents are not taking measures to prevent the misuse of their child's online information.
These statistics underscore the importance of starting a conversation with your children about online risk. Here are some pointers to get started:
Talk to your child about privacy: Teach your child what types of information should be kept private, and talk to them about the importance of guarding this information, both online and in person. Remind them that they should check their social media privacy settings every few months to make sure their information stays private.
Teach your child to recognize scams: Fraudsters can send texts or emails that look like they're from a familiar source –tricks which young people are especially prone to falling for. Tell your kids not to click on links or respond to messages that ask for personal information.
Educate your child around password best practices: Encourage kids to create long, strong and unique passwords, especially for their social media accounts. Strong passwords should be a cryptic combination of upper and lowercase letters, numbers and special characters.
Ask about your child's gadgets: Have your child show you their gadgets – gaming console, cell phone, computer, tablet – and familiarize yourself with them. Use this time to recognize the unique risks, and opportunities for to bolster security on each device.
Have more online privacy tips to share? Join the conversation over on Facebook, Twitter and LinkedIn, and check out our blog post "5 pieces of information kids should not share online" for more child identity theft protection tips.