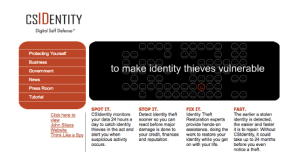 Experian started in 2006 with four founders. We now have more than 180 employees, offices in four different locations around the globe, and our products and services are being offered in multiple languages on multiple continents. As I look back on the past 10 years, there are two principles we've put front and center at Experian that I am particularly proud of and that have enabled this incredible growth: our innovation and our company culture.
In the past 10 years, we have redefined what the identity protection industry is. We don't like seeing instances of identity theft. We don't like seeing headlines about large-scale breaches. But we are pleased to bring to the table a number of innovative solutions that help address these growing issues. We have helped millions take a proactive approach to monitoring their identities and personal information through our technologies; and we have helped thousands get their lives back after becoming a victim of identity theft or fraud.
This innovation wouldn't have been possible without the incredible team we have at Experian. We have an environment that fosters creativity and collaboration. We work hard to attract the best talent in Austin, the US and the world. Employees may come for the job, but they stay because they enjoy the culture, the opportunities and the people they work with. I know I do.
For the past 10 years, we have been motivated to be the best at what we do. We will approach the next 10 years with the same mentality. And we will have a lot of fun while doing it.