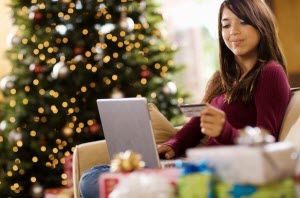 This year, the holiday shopping season began the moment Halloween came to an end. As shopping picks up, both online and off, it's important to keep the safety of your personal information in mind. Here's a quick recap of recent news stories and some helpful tips to keep you safe and secure:
The Basics: Safe Shopping 101
According to We Live Security, online retail markets in China, the UK and the US will increase to almost a billion dollars within the next three years. With numbers this large, more cyber criminals will inevitably look to the growing number of e-commerce shoppers.
To stay secure, the same online best practices apply during the holiday season as the rest of the year. You should always opt for secured Wi-Fi networks, especially when making online transactions. If there is no secured Wi-Fi network available, consider using a Virtual Private Network (VPN) while you shop. Lastly, always look for the green padlock symbol in your URL box to ensure the site you are shopping on is secure.
We Live Security also recommends sticking to well known e-commerce brands with reputations for robust security measures. This is a great measure because, "fraudsters often create fake and professional looking websites to lure in unsuspecting victims. Their efforts can be quite remarkable." High-quality phishing sites, for example, have a 45 percent success rate at mining user data.
Did You Know? Chip Credit Cards Provide Added POS Security
Chip credit cards are having their widespread US debut this holiday shopping season. NerdWallet points to some of the added security features of these cards, reporting that, "EMV chips generate a new code for every transaction. Because the codes won't work more than once, data from an EMV transaction is essentially worthless to a fraudster. EMV cards are also much harder to duplicate than cards that have all the data stored on a magnetic stripe."
Chase and Target are two major companies that are switching entirely to chip cards, according to USA Today. However, consumers should remember the benefits of the chip system do not extend to online shopping. They should also be alert for fraud during this period of transition, according to Money. Cyber criminals have apparently been posing as credit card companies, sending fraudulent emails to consumers in order to gain personal information.
Porch Pirates (Online and Off)
A last consideration for your holiday season: thieves taking packages from your doorstep while you are away from home. Local news sources around the country have been reporting an uptick in this type of crime, and a large "porch pirate" ring was recently busted in Los Angeles.
While this is largely a low-tech crime, porch pirates can also surprisingly take the shape of cyber criminals. WKYC reports that, "A more sophisticated porch pirate might send you an SMS message or email with malware. That would let them gain access to your computer or smartphone, and they could install a RAT (Remote Access Trojan). Then they can eavesdrop on your orders and deliveries."
Having your packages shipped to your work or to a friend, or using a service like Doorman, is the easiest way to combat this crime in its offline form. Otherwise, stay alert for suspicious emails and disable GPS services on your phone when not in use.
For the latest in cyber security news, check out Experian on Facebook, Twitter or LinkedIn!